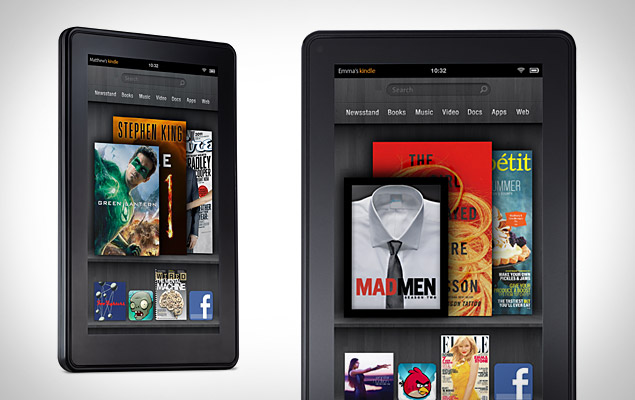 In my last post
I reviewed Amazon's new Kindle Fire tablet as a media consumption device, the use for which it was intended. When the Kindle Fire was first announced, however, I wasn't excited about it because I wanted to consume a lot of media. I was excited because--at $199--I felt the Fire could be an inexpensive alternative to other tablets (i.e. the Apple iPad) in an educational setting. When I read online stories about the Kindle Fire announcement, I conjured images of every teacher and ever student in my school district carrying a Kindle Fire device with them from home to school and back again. I imagined that for students it would make a terrific 1 to 1 solution, and I could see teachers and administrators using it for administrative purposes.
In my next review I'll look at the Kindle as a potential 1 to 1 solution, but today I'd like to look review it as a potential productivity tool for educators.
Review 2: The Kindle as a Productivity Tool for Educators
In my last review, I ended by giving the Kindle a "grade" as a personal media device. What I didn't do, though, was what every educator ought to do when evaluating something, and that is lay out in advance what it is that I'm expecting. We educators like to call those expectations a "rubric." So before I begin this review of the Fire as a productivity tool, I think it only fair to lay out those expectations in advance.
---
Rubric for Scoring Tablets as a Productivity Tool
For my needs, a tablet for work should have
An email client

that will work with a Microsoft Exchange Server
Some sort of

office productivity program

, with a word processing program, a spreadsheet program, and a presentation program. It needs to be compatible with Microsoft Office, and needs to allow me to edit the files as well as read them.
A .pdf reader

A web browser

that is robust enough to allow me to utilize the web applications necessary for my work.
An app store with the programs I need
A: 5 out of the 5 items above
B: 4 out of the 5 items above
C: 3 out of the 5 items above, and a partial on one of the others
D: 3 out of the 5 items above
F: Fewer than 3 of the 5 items above
---
Other users might want a microphone and camera so that they can Skype, or a spot for a SIM card so that they can get a monthly data plan and have online access anywhere, but I don't really need those items to be productive. We have wireless access in every building in our district, and on the rare occasion when I'm at work and outside of the district network I can use my cell phone to stay in touch. So the above are my needs.
And out of the box, the Kindle Fire doesn't do so great...

1. Email Client

There is a native email client on the Fire when it comes out of the box, but that client can't connect to Microsoft Exchange environments. There are several apps in the app store, though, that CAN. The problem, though, is that none of them are free. After trying several of them, I've settled on a program called TouchDown. It integrates seamlessly with Exchange. I'm especially impressed by the calendar function of the program, which is so detailed that it even keeps the category colors that I put into my Outlook client. In fact, the TouchDown program looks more like Outlook than the real Outlook program I've seen on Windows phones. Cost of the program: $9.99 in the Amazon app store.

OUT OF THE BOX:

Fail!

WITH SOME WORK: Check! 2. Office Productivity Program

Installed out of the box on the Fire is a program called Quickoffice, a productivity suite that can open Word, Excel, and PowerPoint documents. But the program is View Only--it can't edit the files. In order to be able to edit and create new files, I had to download the program Documents to Go from the Amazon app store. Documents to Go is normally $14.99, but every day Amazon makes one paid app free, and I checked the app store the day that Documents to Go was free, and grabbed the license key at no cost. Not everyone, though, is going to be so lucky.

OUT OF THE BOX:

Partial check

(read only).

WITH SOME WORK: Check!


3. PDF Reader

The QuickOffice program can read PDF's, so

OUT OF THE BOX: Check! 4. Robust Web Browser

The Silk web browser works fine for me. I can access my work's Help Desk software (It's actually lightning quick for that), as well as several instructional applications I need to access. Our school district's Student Information System has limited success. Parts work and other parts don't. But I think that's a reflection of the SIS more than of the Kindle Fire, and no other Android tablet I've ever seen works flawlessly with it either. For that reason, I'm willing to say that

OUT OF THE BOX: Check! 5. An App Store with the Programs I Need

I actually don't mind that Amazon has its own app store separate from the Google Android market. I've been in the Google Android market, and it makes me feel like walking into that bar that Luke Skywalker and Obi Wan Kenobi walked into in the original STAR WARS movie. There are some really questionable apps in there, and I like knowing that the Amazon apps have all been checked before they were allowed to be put in there.

That said, though, I really needed only one application, and that was an app for my school district's walk through program. That app is free in the Android marketplace, but it's not in the Amazon marketplace. And considering the limited interest that would be in such an application, I can't imagine that it ever will be in the Amazon app store. There are also no apps related to any Google products, which seems an intentional snipe on the part of Amazon. So in this case, I'd have to say that the results are

OUT OF THE BOX:

Fail!

WITH SOME WORK:

Still Fail!



---
Overall Grade
OUT OF THE BOX: The Kindle Fire is NOT a good solution for an office productivity tool. Out of the box it only meets my needs in two of the five categories (and SORT OF meets my needs in one other). With that in mind, out of the box the grade has to be...
Grade: F
WITH SOME WORK: After downloading a couple of apps, though, the Kindle Fire serves me a little better. I have my work email, an Office suite, a good web browser, and a PDF reader. The only thing missing is an app store with ALL of the apps I need. But I find that to be a minor annoyance more than a deal killer. I'd be willing to recommend the Kindle Fire as a potential productivity tablet for teachers and administrators, as long as they realize that in addition to the $199 price tag they may need to shell out an additional $25 for the apps they need to get up and running. That would bring the Kindle Fire's total price tag up to $224. That's still only 45% of the price of even the cheapest iPad!
Grade: B